Electrical Construction Apprenticeship
---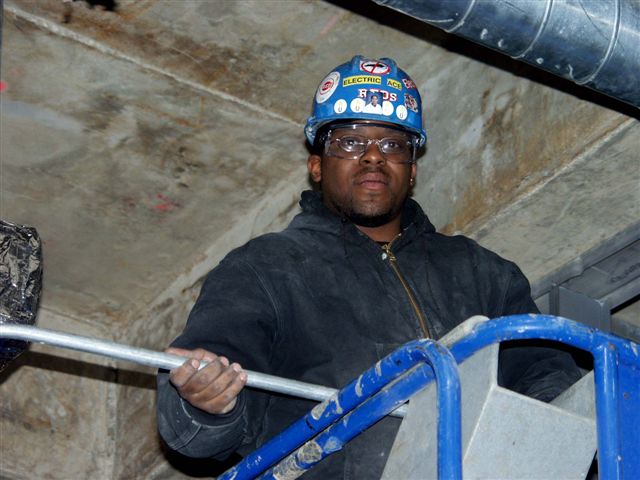 Apprentices in our five year Electrical Construction Apprenticeship Program obtain at least 8000 hours of compensated on-the-job training and at least 900 hours of related classroom training. Upon completion, apprentices graduate to Inside Journeyman Wireman status and are fully qualified to perform the work of the trade.
The Inside Wireman's job is to distribute and connect the customer's electrical equipment to a power source. The Inside Wireman installs and maintains all of the various types of electrical systems found in commercial and industrial facilities. This equipment may be lighting and receptacles, motors, heating equipment, and/or systems that control the operation of all of a facility's energy usage.
The Inside Wireman installs conduit systems that contain the wire from motor control centers or panel boards to all of the equipment that uses electricity. Those conduits may contain power cables or control cables. Many of the conduit systems are exposed and must be installed to exacting standards using neat and workmanlike craftsmanship.
The work of an Inside Wireman can vary. One day the Inside Wireman could be installing a Fire Alarm or Security System in a high rise building and the next day he or she could be installing conduit in a ditch on the outside of the building. Inside Wiremen also install electrical systems in industrial facilities such as chemical plants, power plants, chip manufacturing facilities and automobile plants. Each type of installation has specific electrical needs and systems to support those needs.
While there are many tasks associated with the Inside Wireman classification, our apprenticeship training provides all of the knowledge necessary for an individual to perform these tasks in a professional manner while helping the individual to sharpen his or her skills and abilities to be the best workers in the electrical construction and maintenance industry.
Job Description
The duties of an Inside Wireman are listed below. The number next to each duty is the average of the percentage of journeymen reporting that they perform that task.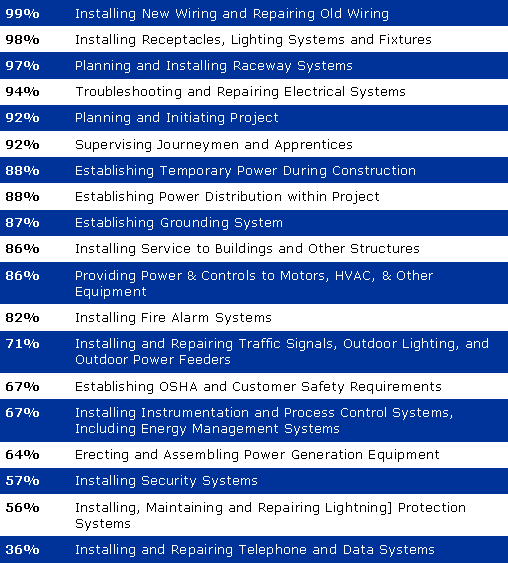 Tools of the Trade